April 2019 Newsletter
Our volunteers are well into their service year. At this time of the year, it's important to discern where what direction we're heading towards. We are excited and determined to continue our mission driven by our shared faith. Enjoy reading our stories and get involved!
BIG CHANGES IN 2019 at The Cardoner Project and The Two Wolves
A message from our founder Fr David Braithwaite SJ
After nine years as the Director and CEO of The Cardoner Project, the Provincial Assistant for Young Adult Ministry, including three years as Vocations' Director, it's with great hope in the future of what has begun here that I let you know that I will be stepping down from my various roles as of March 31.
A search for a new lay CEO has commenced. This has been the plan for several years; to be able to step out and have my current job divided into three separate roles: CEO, Rector, and Director of Bellarmine House. These particular plans for transition have been in play for over 12 months.
It gives me great consolation to consider the fresh, new vision that a lay CEO can bring to build on the foundations laid over the past years by so many. The potential in this ministry is as limitless as the generosity and magnanimity of the young people.
I will continue to live in, run, and look after the spiritual and other needs of Bellarmine House until the end of 2019. I'll also continue in my roles of National Director and Continental Coordinator for Asia of the Pope's Worldwide Prayer Network and the Eucharistic Youth Movement.
In the interim period, while we search for a CEO, Mr. Campion Fernando will fulfil that role between March 31 and the date of the appointment of a new CEO. The formal recruitment process will be conducted by an external firm. I cannot express my gratitude to Campion enough for his dedication to our cause, his living faith, and prodigious work ethic.
Fr. Alan Wong SJ to take on a new role as Rector, with responsibility for the chaplaincy and Jesuit and Ignatian character of work as a whole.
Fr. Alan is an Old Boy of Saint Aloysius' College, Milson's Point and was ordained in September 2018 at St. Mary's, North Sydney. Alan is an engineer by training and worked at Deutsche Bank in London before entering the Society. He has worked and studied as a Jesuit in Hong Kong, Taiwan and Boston in recent years.
I am excited to see what his energy and gifts can do at the service of this ministry for the next two years, after which time he will be missioned to the important work of the China Province.
Ms. Sue Walsh has moved on from her role as General Manager of The Two Wolves Abroad to take up an executive position at Waverley College as their Director of Mission. Sue's dedication, strong leadership and care for others will be sorely missed. Fr. Alan Wong SJ will take over her role for 2019.
Mr. Michael Morgan has stepped down as Chair of The Cardoner Project Advisory Committee to make way for Mr Jim Barber who has become the Chairman of the new incorporated entity and a new Board on April 1. Michael has been involved since the earliest days of this work offering his acumen and hard work every step of the way. I personally owe him a great debt of gratitude. He has never faltered in his belief in what The Cardoner Project was trying to do.
Jim Barber was, until 2014, Vice-Chancellor of the University of New England, and most recently, among other pursuits, the Provincial Delegate for Social Ministries for the Australian Jesuits. Jim was also a Jesuit for nine years before leaving the Society prior to ordination. In that time, he was a Regent Scholastic at Saint Aloysius' College. Jim is a great addition to the team and offers a wealth of governance experience to the Board as it navigates the waters ahead.
I would like to take this opportunity to share with you my astonishment at the gifts God has given in this work. I want to thank all of you who have toiled at fundraisers in the early days, behind the bar, overseas, and everywhere else to bring this idea to reality.
Especially, I want to thank our legion of young people who, in so many cases, have rivalled and surpassed this Jesuit in their passion and commitment to our shared cause. Without them, the work would have merely been a nice idea.
The motto of The Cardoner Project is 'mihi vivere Christus est' which translates as 'for me to live is Christ'. The second half of that line from St. Paul's Letter to the Philippians is 'and to die is gain'. Well I haven't quite died but leaving is a kind of small death and has its own particular grief. However, it is a death that brings life, and it is that life which I embrace as a Jesuit. Even in these terrible days for the Church, I thank God for my vocation, and today I do so again.
Fr. David Braithwaite SJ
Matthew Fogarty (12 Months)
Micronesia – Chuuk
(ST Aloysius' College, Sydney 2018)
Why did you decide to go on a service placement? What are you hoping to achieve from it?
Coming out of a school like St Aloysius College, I was fortunate to have many defining experiences that guided me to the person I wanted to become. I felt a strong drive to both help others and challenge myself to a new experience. After finding out about The Cardoner Project, I knew this would be an amazing opportunity to immerse myself in a completely new culture, help other people and learn a few things about myself along the way. I hope that this experience can be something I can constantly reflect and turn back to throughout my life. I hope that this also allows myself to grow and realise what is important in life.
What has been the most surprising or unfamiliar aspect of your experience so far?
Coming in from a foreign country, with no teaching experience or qualifications, to teach Year 7 and 8 kids in Maths and English has been by far the most unfamiliar and challenging aspect of this experience. Teaching has definitely given me a greater appreciation for all teachers around the world, especially the ones that I have had throughout my education. Teaching has however also been the place where have the most fun and learn the most about ourselves and the culture we have around us. Interacting and teaching the kids on a daily basis, while sometimes frustrating, is truly an amazing experience which I have enjoyed thoroughly.
What has been your highlight so far?
The highlight on this experience for me so far has been interacting with the local kids at both the elementary school where we teach and the high school where we live. The happiness and innocence of the kids provides a powerful reminder of why we are here and how we can live life with a few less worries. Whether its playing basketball, teaching or swimming with the kids, they always provide a good laugh with good times.
How have your feelings or attitudes towards the culture of your placement developed so far?
The 'island life' culture that is present in Micronesia has been awesome to witness and be a part of. The culture over here is very community orientated which makes the people extremely selfless. Everything in life is shared, and the concept of ownership is not understood as it is in Australia or the Western World. The sense of community and its identity is strong within the people here, and they are proud of what they have been able to accomplish out in the middle of the Pacific Ocean, in a country where most people haven't even heard before.
Nepal immersion Reflection
By Dana Compton
It is very difficult to express just how amazing and transformative my Nepal immersion with the Cardoner Project was. By experiencing the value of service through a culturally diverse lens, I feel touched by the richness of people's faith and generosity despite those that live a life riddled with adversity.
In Nepal, Tipling is a village where material poverty is an everyday hardship for most individuals. The comparison of this entrenched poverty and kindness of the local people was profound, in an incredibly eye-opening way. It is because of this that the nature of service we undertook was tedious and challenging. Most days were spent helping to build earthquake proof housing. Our group worked efficiently together to pass heavy rocks one by one in an assembly line style to form a stable structure for hours on end. As well as this, each of us took turns visiting the local primary schools where we were allocated multiple classes to educate. Some of our lesson topics involved teaching the English alphabet, learning about Australian animals and basic mathematics. At the end of a long day of hard work, our campsite was flooded with local children that were excited to come and play with us. We saw hope and happiness in each child as they made the most of what they had. Whether it was a game of soccer with a deflated ball or playing duck-duck-goose in broken English, this served as a reminder that although these individuals live so simply, one can live happily and carefree without luxury. From these service tasks, I was able to appreciate the strong sense of community and a hardworking attitude that is embedded within the people of Tipling.
Throughout each town we travelled through on our treks, we were greeted by the local families with heartfelt "namastes" and never made to feel like a stranger. I am grateful to have been led on each trek by a wonderful team of porters and guides who helped us experience the beautiful scenery of Nepal and learn about its complex cultural history.
Additionally, I am extremely grateful for the friendships I have formed throughout my three-week journey. The group fostered a large degree of companionship and support, made evident when faced with emotional and physical challenges. Even after a lengthy day of laborious service or tiresome trekking, the team morale was never low.
In essence, my Nepal experience left me feeling a deep responsibility to continue serving others. Taking on this adventure alongside a diligent group of young people enabled me to realise my full potential as a service volunteer and gave me the strength to pursue life with a courageous and selfless outlook.
Cameron Fraser (3 Months)
Sri Lanka – Vavuniya
(St Ignatius college, sydney 2018)
Why did you decide to go on a service placement? What are you hoping to achieve from it?
I decided to go on a service placement in order to grow as a person and experience the lives of people in foreign cultures to my own. From this experience I am hoping to achieve a bigger perspective on how many people in the world live as well as a greater appreciation for my own life and the opportunities and privileges of the modern world.
What has been the most surprising or unfamiliar aspect of your experience so far?
The most surprising aspect of the experience so far has been the cultural differences between Australia and Sri Lanka with hundreds of small surprises such as the differences in food, transport and religion. Overall the most surprising aspect has been the happiness and welcoming nature of everyone here to complete strangers, welcoming us into their homes and always being friendly.
What has been your highlight so far?
So far, the highlight of the experience has been travelling down to the small town of Feterosso where our roommate lives. He invited us to stay with his family over the long weekend letting us travel around the area seeing the authentic Sri Lankan countryside and experiencing the unique culture of rural Sri Lanka.
How have your feelings or attitudes towards the culture of your placement developed so far?
My feelings about the culture of Sri Lanka were initially quite overwhelmed as we were plunged headfirst into a vastly different culture with various of small differences which were confusing and difficult to get used to. However, after growing closer to the various people at our school I began to understand the differences in culture and why they are the way they are. After about a month I feel I have a much better understanding and appreciation of Sri Lankan culture slowly getting more accustomed to the differences.
Henrique Mattos - Guatemala
"The Guatemala Immersion for me was much more than just being with the kids and teaching them in the classroom. The kids taught me much more than what I taught them, they showed me a deeper love and kindness for others, no matter the circumstances. The school's staff and the 'Tia's' were real motherly figures providing us with wonderful local lunches and dinners we will never forget, we can't thank them enough. The faith exploration experience that the Two Wolves provided was incredibly well-suited to this trip and I would do it all over again."
Stephanie Fox - Thailand/Vietnam
"An unforgettable and life changing experience. It exposed us to the realities of life outside our protected communities and made us truly grateful and aware of everything we have back at home and the opportunities we are given. It has allowed me to grow as a person, to become kinder, more patient and more present. This experience really highlighted faith in action, a refreshing change to the religious scene back in Australia at the moment. I'd like to hope that we were able to give back to the Viet and Thai communities we were apart of and make at least a small change for the better, whether it be renewed confidence, drive to do well at school or even just a happy memory."
"Going to Belize was one of the most amazing and unique experiences I have ever had. This once in a lifetime opportunity helped bring out the best parts of myself through serving others. I developed an understanding of the importance and need for service not only in our own community but in others around the world that need it most. I was lucky enough to meet the most incredible people who continue to inspire me every day."
"My immersion to Nepal was an unforgettable and transformative experience, one that I cannot put into words. Having the ability to interact and provide service to the Tipling community, amongst a beautiful country and amazing people was definitely a life-changing experience. Nothing can compare to relationships that were formed with the locals, through their generosity and kindness, ultimately leaving me with a greater drive to provide more service to communities."
"In recollecting my experiences of India, I am continually struck by how impactful the unique connections I shared with the people we served and served alongside with, truly were. The realisation is made all the more bewildering upon considering the backdrop of India itself; country filled with unfathomably rich cultures, woven together in a land of staggering natural beauty. And yet, of all my experiences, from the smallest acts of service, to completely non-verbal contact, to deeply personal conversations; human connections with individual people are what remain as my most vivid memories."
Lauren Martin - Camino De Ignacio
"Each day we trekked roughly 20 kilometres, celebrated Mass, joined in morning offerings, examines and shared our thoughts and feelings present during the day. Fr. Dave Braithwaite's theological talks and our opportunity to begin each day in silent walking provided important pathways to reflect and pray. I found these practices very crucial to my self-growth and have tried to include these in my everyday life. The opportunity to walk the Camino is one that I am very grateful for; to connect with other like-minded individuals, deepen my faith life and learn more about Saint Ignatius' life was an extremely transformative experience."
Jack Plummer (3 Months)
Nepal – TIpling
(ST Aloysius' College, Sydney 2018)
Why did you decide to go on a service placement? What are you hoping to achieve from it?
I decided to go on a service placement because I wanted to take a year off from school and just go and have some life experiences, gain some lifelong friendships, to see another side of the world, jump out of my comfort zone and enjoy some independence. The other reason I wanted to go is because I know I want to go into a career that centres on service, but I'm not sure on which pathway would be the most fruitful and I hoped this placement would give some insight.
What has been your highlight so far?
Every afternoon I try and find something new to do no matter how tired I feel. Some of the greatest memories I've made have been from cutting, collecting and carrying firewood with the children. This activity has been by far the most rewarding in terms of bonding and fun times, developing friendships trust and a mutual respect for each other's strength and brains. Having these shared experiences with the students, showing them you're not afraid to get your hands dirty and do some work like them, develops their trust and friendship with you, in turn, allowing your time in the classroom teaching to be more fruitful. As being a teacher (as well as being a foreigner) is seen as an position of high standing within the community and by doing labour like everyone else helps them to relate to you and vice versa.
How have your attitudes or feelings towards the culture of your placement developed and changed over the time of your placement?
All the people I have met in Nepal have been the most genuine, caring, loving and open people, and when I say open I mean it literally, their doors are open to anyone all the time in the village. They will always invite you inside for tea and a small snack. Initially I found teaching very draining and chore like now it is an awesome part of my day 6 days a week. I'm constantly teaching and simultaneously learning from the students and other teachers. When I leave I'll be extremely sad as I have formed a very strong bond with the children in the village, as well as many of the adults and other teachers, however I'll always remember the experiences and friendships I've made and take the lessons I've learned with my in life.
two spaces available, for your corporate or social function
enquire at; events@thetwowolves.com.au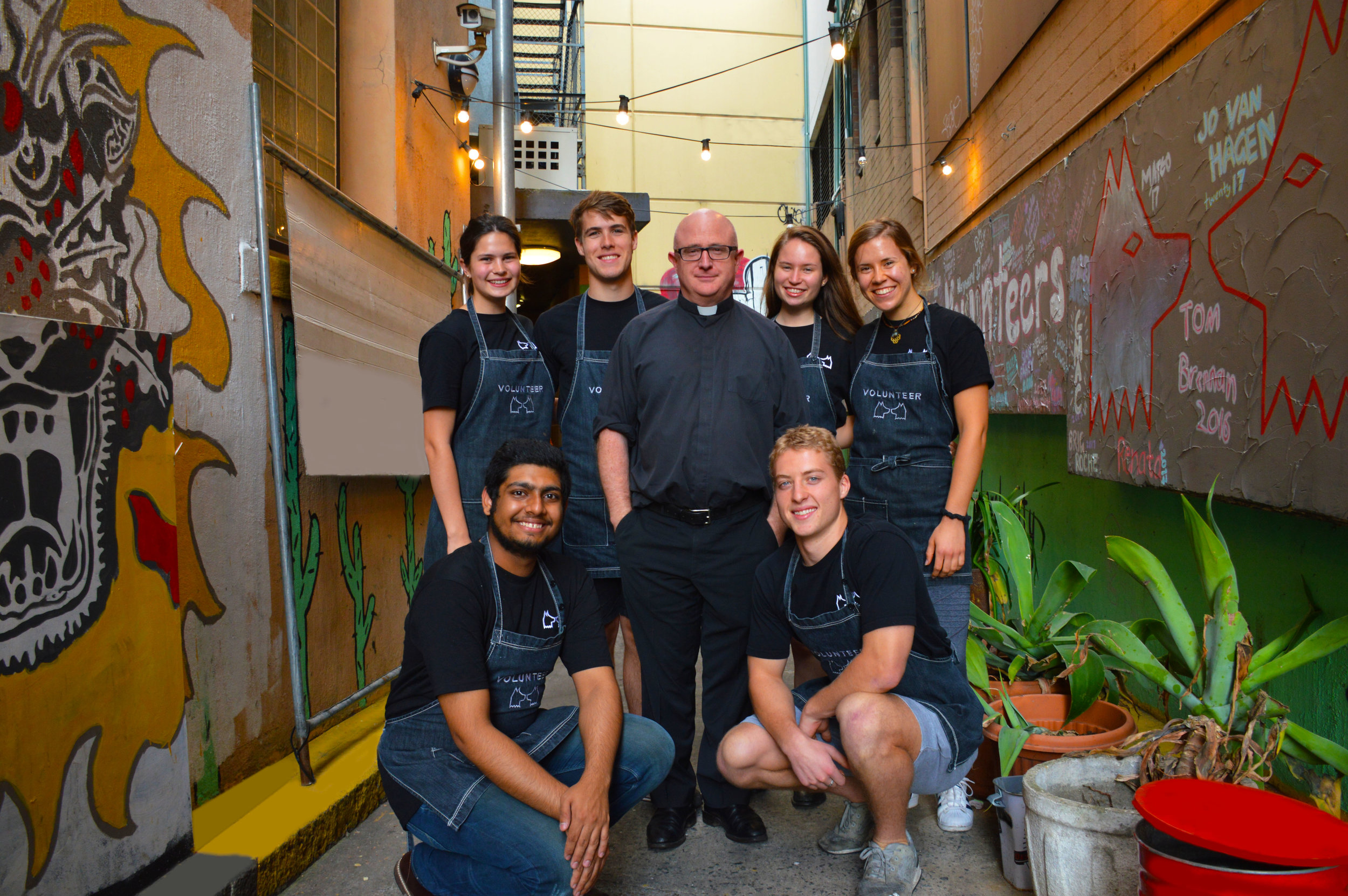 To learn more about our social impact, have a look at our 2018 Impact Report!