July 2019 Newsletter
Now into the second half of the year, it's important to take time to reflect on what we are grateful for, as well as looking forward to months of love and service ahead. Enjoy reading our stories and get involved!
beaded chain of changes and more exciting news!
A message from Campion Fernando
My association with The Cardoner Project dates back to May 2015 when we had a dozen residence in Bellarmine house, around twenty young volunteers overseas and a vacant ground floor with an oversized marble bar in our building, The Jesuit House, Broadway.
Under the leadership of Fr David Braithwaite SJ what I have experienced is inspiration and providence that stimulates commitment to service among our young people. The transformation and progress in the individuals have collectively contributed to the phenomenal growth of The Cardoner Project over a relatively short period of time. What it means for this ministry is the impact on the hearts and minds, way beyond the dollars and cents driving richer senses. All these factors have certainly inspired me with nothing but excitement and promising hope for the Church and the society at large.
Following on from the last newsletter, we are pleased to inform you that the CEO search has been successfully completed. Mr Robbie Graham has been appointed to this role and will formerly take over the baton from early Aug'19. Robbie Graham is no stranger to The Cardoner Project. His association with the project as a parent of our alumni Alex and Jamie and his wife Karen's contribution as a former Director of our Advisory Board brings a package of understanding and familiarity of the graces of The Cardoner Project. Robbie's broad and successful background in the commercial world will be an asset for the future of The Cardoner Project.
We are also privileged to welcome Ms Ashlee Chapman as the Manager, Overseas Program. Ashlee joined us with a delightful background of working with and managing aspects of local and international volunteer programs. Ashlee's understanding of the various dimensions of volunteering is expected to contribute towards extending the boundaries of our overseas programs and looking for potential local programs.
Robbie Graham and Ashlee Chapman join Fr Alan Wong SJ, Rector and Hector Glower, Manager Two Wolves Community Restaurant and the rest of the team including the volunteer battalion, soon to be "THE" team at 202 Broadway!
We thank all the supporters of this project and wish them Blessings of the Almighty.
May The Cardoner Project continue to reach out to serving the disadvantaged and the marginalised through the foundation of Young Adults.
Summer immersions 2019/20
Due to popular demand 17 year olds now accepted & no flight options available
Don't miss out on your opportunity to go on one of our immersions this summer! We are now accepting 17-year-olds, and we're offering the option to book an immersion without flights, so that you can combine an immersion with other travel plans. Prices start at $3,800.
To see where you could be, check out our new video below!
New faces at the cardoner project
A message from Manager Overseas Program ashlee Chapman
After one month with The Cardoner Project I'm still being overwhelmed by the incredibly warm and friendly welcome to this very special community. It is inspiring to see so many young people giving their time freely in the service of others, building strong relationships both here in the Cantina and overseas in the communities we work with. Although I have come from a long background of working with volunteer programs, each is unique and driven by very different motivations. Whether seeking an opportunity to build professional experience, contribute to Australia's aid program, improve the lives of the disadvantaged or prevent conflict turning to violence, none of the programs I have worked with have been so focused on service to others and constant reflection as part of the process to build character and resilience. After traveling the planet for so many years and getting lost in cultures with traditions that have led me to question and consolidate my own beliefs, sometimes I have to pause and take a moment to think about what an enormous step this is for the young people putting themselves forward. It is inspiring to see our volunteers taking a leap into the unknown, driven by a desire to help and learn and I feel privileged to be able to hold their hand on this journey.
SIMEON CASEY (12 Months)
THAILAND
(ST Aloysius' College, Sydney 2018)
How have you found The Cardoner Project experience so far and what has it taught you?
The experience so far has been amazing. The Karen people show extraordinary hospitality. They're excited and happy to have us here. Despite the clear language barrier, they consistently try and have conversations with us, and us with them. They are light-hearted and joyful. This is perhaps the biggest lesson I've been taught over here in Huey Tong - to savour life's beautiful moments with joy.
Since the beginning of The Cardoner Project placement, what have you been grateful for?
I've certainly been grateful for my family from the beginning of this eleven-or-so month placement. Being away from them as well as seeing the value people place on family over here is a fair motivation to try and fully appreciate family when the time to head home comes around. But, in a more present sense, I've been incredibly blessed to meet all these new people. Thai/Karen people are colourful and kind. I've made some friends and teach some real characters at school. It's a vibrant, lively community driven by a joyful faith and commitment to family.
Do you ever doubt your initial decision to do a service year? Why?
Not really. If I did I don't anymore. It'll be hard to leave when the time comes. I think the choice to put a gap between high school and university was good. Especially, to be able to do some service. Hopefully, and I think, the experience will be grounding and humbling so that any future university pressure, or whatever it may be, should be easy to put into perspective.
What's one thing you experienced recently that made you feel a sense of wonder or awe?
My faith life is regularly leaving in me in a state of wonder and awe. The community here generates an environment fruitful for the growth of one's faith. The devotion of the people to the church and the huge trust they place in God is motivational.
Nepal Placement Reflection
By WILLIAM MCMANUS (4 months)
People often ask me about my time in Nepal. "How was it?", they ask. A standard "it was really good" does not do it justice at all. There are times in your life where you experience something so foreign, wild, confronting and complex, yet so incredibly beautiful, that a discussion does not adequately reflect it. I was in Nepal for 4 months and we went through a lot. It was something raw: untainted by a lot of the superficiality and distraction that the comforts Sydney provides. Myself and three others were situated in an incredibly isolated village called Tipling, nestled into the side of the Himalayas. While living there, we taught English to years 1-5, who were the first generation of their caste to be educated in a classroom. These children, I now love. Life also involved living simply as the people there do. We would often be invited into a teacher's home for tea and noodles. The time spent there had no limit. We were welcomed like family as long as forever. I recall sipping some tea around a fire one afternoon, and the teacher who I taught with, whose home it was, told me that I was family. Often, we would also walk down the rocky mountainside to the lower-caste village. These people are regularly marginalised from mainstream society, so we made an effort to embrace them as the equals as they are. We played with the children and sometimes tried to teach them English.
There were times when I was struck by their lifestyle too. For example, our school had a picnic with all the young children. It was situated about an hour's walk up from the village and they had decided to bring a goat along. The kids guided it along the rocky path and only half way up I realised we were guiding our lunch for that day. What followed was a surreal goat-beheading and a delicious meal.
What really struck me was the reality that a hefty amount of these children would inevitably grow up to simply be farmers as their ancestors have been for centuries. At first, it was difficult to justify us being there knowing that a lot of our teaching efforts would be wasted. What really allowed me to find contentment was the truly loving relationship the other boys and I shared with the community, the other teachers and the students. It was very much like a large family in a village of only a few hundred people.
Despite what I have said, the most pertinent lesson that has stuck with me is to simply let go. It was something that was almost glowing when I interacted with the locals in Tipling. To release yourself from an illusion of control over complicated aspects of your life and have true gratitude for your blessings is wisdom that has helped me grow. I am grateful for the comforts of Sydney that we did not have over in Nepal, although as home gives you a lot material wise, I personally believe it is easier to live more simply and to be rich in good relationships and contentment. That is where joy is found.
Lily Crawford
CANTINA VOLUNTEER
The Two Wolves Community Cantina is a powerful tool for young people to find faith and meaning, as well as engaging those who would otherwise feel left behind or excluded from opportunities or networks of influence. The main way this is achieved is through the Cantina's Social Inclusion Programme, which seeks to integrate young people of difficult circumstance into The Two Wolves volunteer community, and has been doing so since the programme's inception in 2016.
One of the Social Inclusion Programme's greatest success stories is volunteer Lily Crawford. Lily began volunteering at the end of 2017, and regularly works in the Cantina on Friday afternoons. Recently, Lily has started working at Portal Café in Martin Place, and she says her experience volunteering at The Two Wolves helped her to attain, and since thrive in, her new position. "It helped me learn how to serve, to accept payments, and make new friends!"
Lily is one of The Two Wolves most loyal and valued volunteers, and a shining example of the possibilities that can be achieved through the Social Inclusion Programme.
'It has been an absolute delight to volunteer alongside Lily. The Two Wolves community couldn't be prouder of her achievements as well as her recent success being employed in a paid position at Portal Cafe in Martin Place. Lily has continued to flourish in her hospitality skills, demonstrating a highly capable standard of warm service to all our patrons. Her welcoming and friendly personality enables her to develop great rapport with customers and volunteers alike. She is independent during shifts – always taking initiative; whether clearing tables, running food or serving customers on the TIL. We wish Lily all the success in her newfound position and want to express our deepest gratitude for her continual contribution to our Two Wolves Community.' - Carla Field, Volunteer Coordinator.
OLIVIA PERIC (6 months)
Thailand
How have you found The Cardoner Project experience so far and what has it taught you?
So far I have found this experience to be the most rewarding time. Each new day, from waking up to bed time surrounded by 30 or so students in our dormitory has been amazing. I've learnt so much about myself as well as the community I am living in. From the obvious being learning the Thai language to understanding the importance of ones faith and culture within the Karen community.

Since the beginning of The Cardoner Project placement, what have you been grateful for?
This placement has made me realise how grateful I am for my family and the close bond I have with them. In regards to what I am grateful for in Thailand it's the connection I get to make each and everyday with my students, teachers and kids in the dormitory. They're all so open and welcoming to us volunteers and for that I am so grateful.
Do you ever doubt your initial decision to do a service year? Why?
During the last five months I have not once doubted my decision. In fact it has been the complete opposite. Originally I was planning on only staying for 6 months however in the end I chose twelve months, and I am so happy I did. In regards to coping with any fear of missing out, I found the easiest thing to do is to put down my phone and go outside and spend time with people; whether it be others in the house or my students.
What's one thing you experienced recently that made you feel a sense of wonder or awe?
For me it was when one of my students in our nightly tutoring couldn't keep up with the class when we were reading the book Charlie And The Chocolate Factory. Every time she had to read by herself she would stumble on every second word. I decided to help her for an extra fifteen minutes for the rest of the week. Then after one week we all got together again and when it came to her turn to read out loud I was prepared to step in, however she completely surprised me by reading the whole paragraph without faltering once. This moment made me realise the affect my teaching was having and provided me with a sense of wonder.
ANGUS KENNEDY (6 months)
INDIA
How have you found The Cardoner Project experience so far and what has it taught you?
Eye opening to put it simply. Working with leprosy patients and children with no families everyday is very inspiring and teaches you the value of relationships. Whilst helping the nurses around the ward is beneficial to Jesu Ashram, it's our 'presence' that has had the most profound effect and thus something we will take into the future. It's really all about fully investing yourself in the community each day, and being able to sit down and reflect on the things you are grateful for.
Since the beginning of The Cardoner Project placement, what have you been grateful for?
The experience has taught us to value the simple things in life. Living over here has made us open our eyes to the many opportunities present in our Australian every day life. Seeing the lack of opportunity provided to some of the communities in India has really driven us to make the most of our time here. Things as simple as our education, the food we eat, the resources we have at our fingertips in Australia and especially our families are a few of 'simple things' that we are really grateful for now. Also, we've learnt the value of cherishing relationships both in India and in Australia, as it's these which form our identity.
Do you ever doubt your initial decision to do a service year? Why?
Maybe early on in the experience when we were finding our feet in terms of being accepted into the community. India is such a different environment and it probably took us a good month to call Jesu Ashram (and the people in it) our home and moreover, our family. Once we assimilated, we haven't looked back on our decision and in no way regret it. As a consequence, all thoughts surrounding a fear of missing out have pretty much disappeared.
What's one thing you experienced recently that made you feel a sense of wonder or awe?
There's probably two that stick out for us over the last few days. Firstly, as we were gardening out the front of general ward, about 20 of the patients (all with either mental heath or physical disabilities) freely joined us. None of them were asked to, or treated it like a burden, they simply did it to help out 'family'. They all had smiles on their faces, danced and sung as they worked, and it left us in awe as to how people can be so joyous even when their lives have been turned upside down by unfortunate events. Similarly, two young girls in the leprosy ward were over the moon when we gave them something as simple as a grey lead pencil this morning. Even those these girls had just lost their brother to leprosy, they still can find happiness in the darkest of times. This made us realise that despite all adversity, you can find things to be grateful for in your fear. Most of the time we forget that it can be the simple things, like receiving a grey lead pencil. There is no light without the dark.
Matty Shields' 60th Birthday party
The Two Wolves Community Cantina
This May saw The Two Wolves host one of its biggest ever events for a beloved volunteer. On the 17th of May, Matty Shields celebrated his 60th Birthday with The Two Wolves community, and it was a night to remember for all those involved. Having started volunteering in 2017, Matty is one of the Two Wolves' most loyal volunteers, and spends every Wednesday and Friday cleaning the laneway and ensuring that the the restaurant is set-up for the working day.
Over one-hundred of Matty's friends and family, as well as past and current volunteers came to celebrate his 60th birthday, in an event that truly embodied the sense of community at the heart of The Two Wolves.
As the night went on, people significant to both Matty and The Two Wolves community shared experiences and fond memories they had of Matty. Father David Braithwaite SJ, Father Alan Wong SJ and past OIU President Steve Newnham all expressed their gratitude to the Cantina's "Volunteer of the Year" for 2018.
James Price (12 months)
Thailand
How have you found The Cardoner Project experience so far and what has it taught you?
The Cardoner experience so far has been a very powerful one. I think it is difficult to encounter so many different people, cultures, ways of thinking and places and not be challenged by it. Each element of the experience has taught me something new, from teaching in the classroom and visiting student's villages to even the simple things such as playing football or having a room mate. Some lessons are more specific for example teaching skills while other's are much more broad, like learning about how people value things cross-culturally and learning many things about myself as well. The biggest lesson for me has been about the importance of faith and gratitude. These two things have shifted my perception of this experience to see even the more difficult times as a blessing and also have given me a reference point with which I am able to interpret what I encounter.
Since the beginning of The Cardoner Project placement, what have you been grateful for?
I am most grateful for the gift of faith. The peace which I am able to experience in such a foreign environment with no one I have known for over 5 months is a testament to that, and my faith brings a great deal of security in a world which I have discovered to be a lot more hostile than I originally suspected. Beyond that, I have grown in gratitude for the generosity of people benefiting from it so much this year as well as for the value of hard work, realising how much of life for many people is a hard sacrifice to provide the necessities for those that they love. My experience of hard work at a place like Aloys (where all necessities are well and truly covered) was one whereby it was an attempt to prove oneself, so I became somewhat embittered by that. However, over here what drives hard work is a sense of duty, and I began to realise how much I have benefited from the sacrifices of others in my life and have been so ungrateful for it.
Do you ever doubt your initial decision to do a service year? Why?
For a period of time I fell into the temptation of wanting to be somewhere else doing something else. Upon realising I had succumbed to this, I shifted my perception by trying to be more grateful for where I'm at, as I realised that pride and ingratitude were the source of this frustration . In my experience at Aloys we are sold this narrative of the "magis" and "born for greater things", which are true but not in the sense that my proud teenage mind conceives them. It led to me thinking I was made to do amazing things, but my conception of that was done in within 10 minutes of a year 2 class. I came to realise that the call to greatness is not so much in doing great things, but in doing simple things with great love and thereby becoming someone great. I am so far from having a sufficient sense of gratitude yet, but even now I am so thankful to be here and I even find joy walking into my year 2 class as I hear their cheers knowing I'm about to face an hour and a half of struggling to learn the days of the week and practicing my riot policing skills, because being alive is just such a good thing.
What's one thing you experienced recently that made you feel a sense of wonder or awe?
At the risk of sounding like a 15-year-old's instagram caption, the sunsets here always fill me with a sense of awe and wonder. They usually occur at a time when I am outside on a walk with students or embarrassing myself on the football field, and whenever I see that blazing orange disk across farmlands sinking behind the mountains I just think: wow, Life is good and the good justifies all the suffering.
GRACE REID (immersion)
INDIA
How have you found The Cardoner Project experience so far and what has it taught you?
Over the three weeks I spent in India I learned many things. I learned firstly of a new culture and a new way of life. Before India I had never even been to a country in Asia. The streets of Kolkata were different to any place I had ever been before. Everything was full of life and spirit. I learned that there is so much to learn from those around us. Although the language barrier proved difficult at times, I had such amazing experiences with the people I interacted with and met. I learned from them the power of connections and openness.
Since the beginning of The Cardoner Project placement, what have you been grateful for?
I think after my Cardoner Project experience to India I was able to have a new gratefulness for life. In India I saw how simple life truly is and when you strip back the distractions in your own life you can learn how to be grateful for the main things. It gave me an appreciation of the healthcare we have in Australia and my own health in general. I learned that when you become thankful for your health and understand how lucky we are to be healthy it is easier to not sweat the little stuff in our hectic lives.
Do you ever doubt your initial decision to do a service year? Why?
For me I didn't really feel any fear of missing out over the course of my trip. It was somewhere I had always wanted to go. As I have travelled before, I know that whenever you come back from a trip you feel as though things at home are changing so rapidly when in reality nothing has really changed that much. I was able to just enjoy myself and the company of my group. The trip was so full on and at times confronting that it was easy to forget about the things going on at home.
What's one thing you experienced recently that made you feel a sense of wonder or awe?
I think on the trip to India a moment that made me experience awe was when we woke up early to watch the sunrise over the Himalayas. It was near the end of the trip and it was just a moment that has really stuck with me because the scenery was so beautiful.
two spaces and a new menu available, for your corporate or social function
enquire at; events@thetwowolves.com.au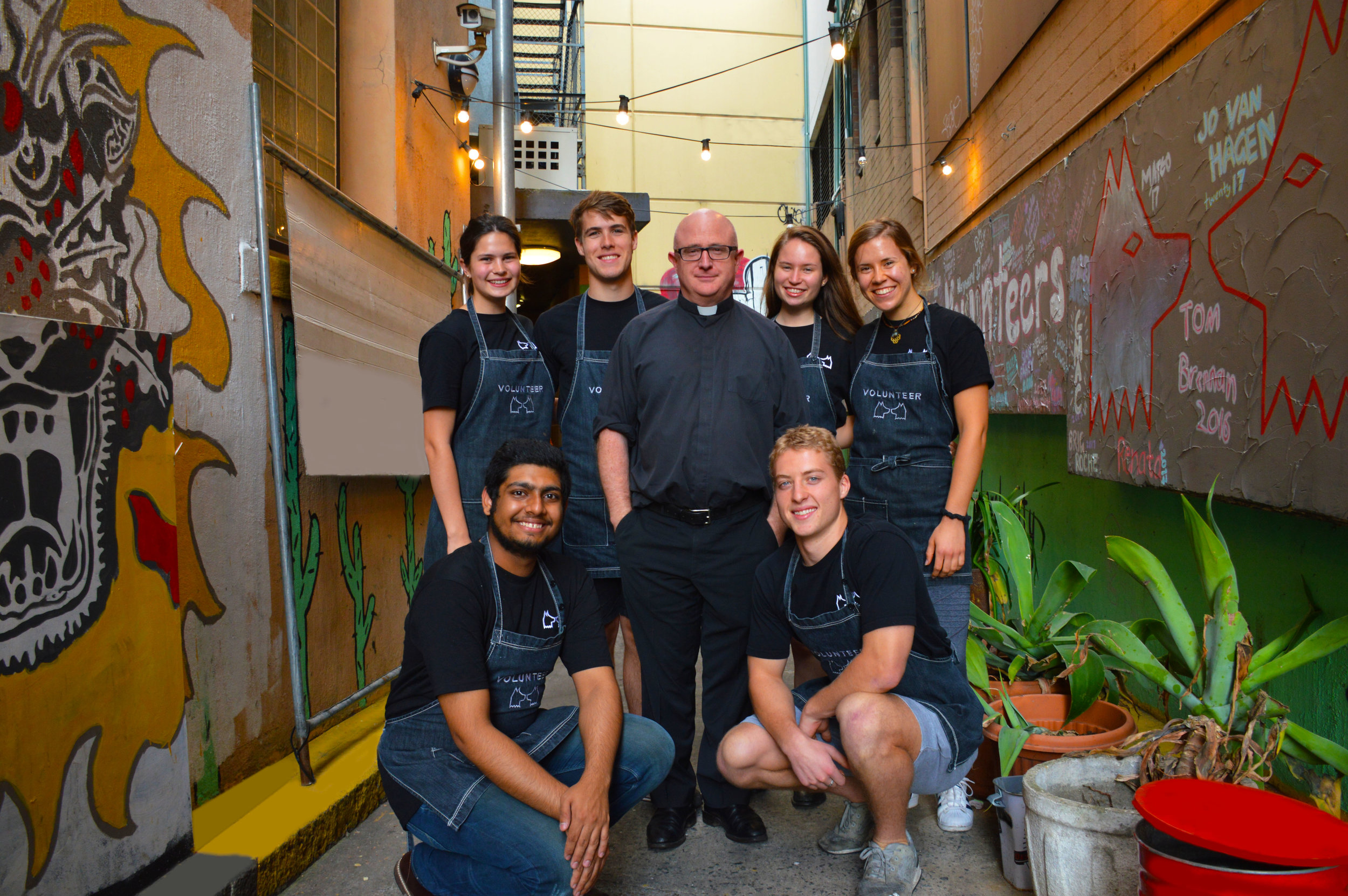 To learn more about our social impact, have a look at our 2018 Impact Report!